Reconditioned Steel Drums
Reconditioned carbon steel drums come in 30 gallon and 55 gallon sizes, open and closed head. Closed head drums are for use with liquid, and come with 2" and 3/4" Rieke or TriSure bung openings in the heads Open head drums are for use with solids (and sometimes liquids too), and have a removable lid, with or without bungs The lids come complete with gasket and closure rings.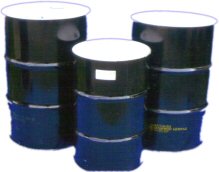 Reconditioned Metal Drums can be ordered in a variety of colors.

We carry plenty of reconditioned closed head steel drums in stock. The non- UN rated drums can be used for oils, desiel, and other fuels. The UN rated closed head rums can be used for hazardous or regulated chemicals.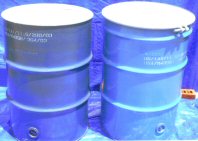 Open and closed head agitator drums for in drum stirring and mixing. Call or email for specification and availability.

Reconditioned open head carbon steel drums with 5/8" bolt ring for Hazardous Materials.UN1A2/Y1.4/100

Reconditioned open head carbon steel drum for Non-Hazardous materials UN 1A2/Z