Drums For Home Storage and Decorative Use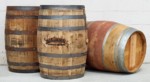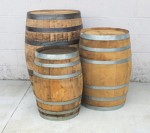 Volunteer Drum LLC has wooden whiskey and wine barrels which can be used for many different projects. They can be used for furniture, props, planters, and many other purposes.  We sometimes have a few 15 and 30 gallon wooden barrels in stock. Feel free to contact our office at 865-673-9396 to ask about the wooden barrels.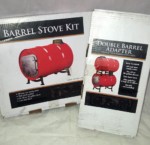 Volunteer Drum LLC stocks both single barrel stove kits, and double barrel stove adapter kits. You would need to have the drum, or you can purchase them from us separately.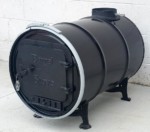 The single stove kit will accomidate either a 30 gallon or a 55 gallon barrel and comes with the feet, door, and flue collar. The drum stove kits will work with either open head or closed head barrel, both carbon steel and stainless steel.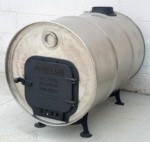 Stainless steel drums are available if you would prefer those. Stainless steel barrels will last much longer than carbon steel. Although the initial investment is higher, the stainless steel stove will last much longer without having to replace the barrel.
The double stove adapter will allow a second barrel to be stached on top in order to create a larger heat surface. The double stove adapter has feet and two flue collars to connect the top and bottom barrels. You would need the single kit and two barrels in order to use the double adapter.
Drums & Barrels for Home Storage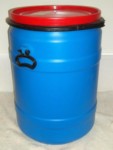 We offer a clean, slightly used 30 gallon open head plastic drum which works well for many homme storage projects.
These barrels were originally used to ship small pieces of metal which were inside plastic bags. When the bag was removed the drum was left clean and dry. There is no odor in these drums and they are in like new condition. The lid is held on with a metal lever lock ring.
We also have gently used fiber, or cardboard, drums. Most of these had food product in them such as dehydrated onions or chili powder. These drums are useful for storing household items, and for use as moving cartons. They stack well and the lid is held in place by a lever latch ring.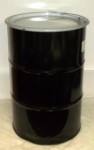 We do also carry a good, clean used open head metal drum which had also contained food product. These had been full of peanut butter, and have been pressure washed so that they are relatively clean. These barrels are ideal for storing animal feed, household items, and many other items. The cover is held in place by an inside leverlock ring, which is very easy to open, and the drums are lined with an epoxy phenolic coating which is what makes metal drums safe for food use.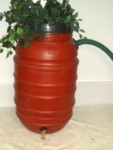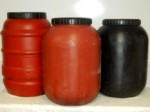 Used open head poly drums make excellent rain barrels. They may also be used to store animal feed, as well as other uses. Our open head plastic pepper drums (pictured here) had contained jalapeño peppers. They have not been washed out and do retain the smell.
We also stock a rain barrel kit which will allow you to easily convert these barrels to rain barrels. The rain barrel conversion kits consist of one ¾" bulkhead fitting, one 1.5" bulkhead fitting, one ¾" brass faucet and one 1.5" hose barb (for the overflow). We do also carry 1.5" overflow hose which we sell by the foot.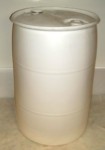 Used closed head plastic barrels can also be used for making inexpensive pet beds. They can also be used for rain barrels, planters, animal feeding stations, rain water storage and many other things. Most of these drums have had food product in them. We will not sell you a barrel without telling you what had been in it. If we do not know what had been in them, we do not sell them.
We do not sell used chemical drums to the general public. All of our used chemical barrels are sent to responsible reconditioners/recyclers to be cleaned or to be properly disposed of.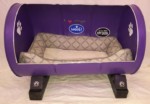 Drums can also be used for beds for fur babies. Metal drums will have sharp edges when cut so be sure to cover those with a protective coating so that your baby can safely get in and out. We used automobile door molding to cover our edges. It works well and is not terribly expensive, and it helps keep your pet from getting scratched. The feet are simply blocks of wood which cradle the barrel to keep it from rolling. A 55 gallon drum will make a nice bed for a medium size dog to lie comfortably.
Smokers, Coolers & Deer Feeders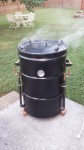 Smokers and grills are just two more ways to use metal drums.
Unlined tight head metal drums can be converted to awesome grills with a good cutting tool and a little know-how. Prices vary for reconditioned drums to new unlined carbon steel tight head drums.
Open head metal, either carbon steel or stainless, make great smokers! Plans are available online for these projects. If it's football time that means cookout time in Tennessee!!! Used, unlined open head carbon steel drums, light gauge, may be available and had previously contained food product.
We have a supply of new open head carbon steel drums which are perfect for smokers. They are unlined and unpainted so there is nothing for you to have to burn or scrape before you build your smoker. Those are heavy 16 gauge carbon steel with straight sides and a lever lock ring.
We also have a supply of new stainless steel drums which are perfect for smokers and can out-last the carbon steel by several years.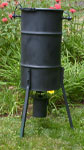 This deer feeder was built by one of our customers.
He used a 16 gallon drum with a lever lock ring for easier access. He also says the feeder is bear resistant. This 16 gallon open head carbon steel drum is unlined and can be purchased with a bolt ring or the leverlock ring.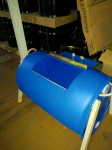 Plastic drums make great ice coolers for large gatherings.
Simply cut the drum to suit your style, add legs and rope handles and you are ready to get the party started! all you need is a good saw, a few screws, rope, wooden legs and a steady hand.